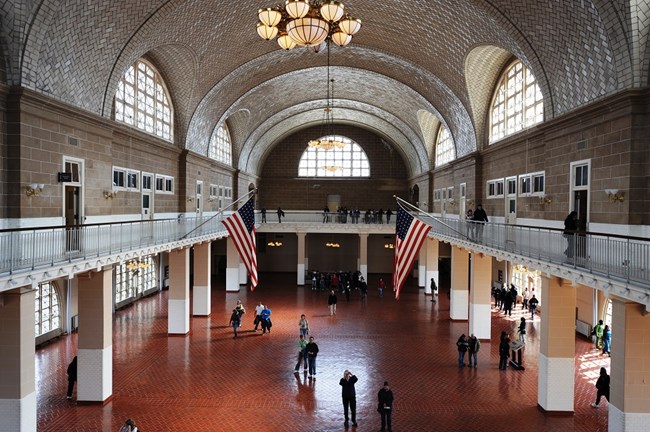 Reasons why things happen either live on in family stories or are ignored as unimportant. If a certain generation didn't think something was an important enough to tell a story about, the true reason gets lost and people make assumptions and those assumptions are passed on.
It's a Good Story
One story people have made up to explain why a relative's name suddenly changed spellings or changed completely and they knew Ellis Island took names so surely that's where it happened….no. It makes a good story, but it isn't true. At Ellis Island they weren't writing down names, they were checking names off a list and comparing answers to questions from what they had said to the shipping company back home.
In addition, the idea of them struggling with all these languages isn't all that accurate either. A majority of the workers at Ellis Island were immigrants themselves and spoke multiple languages. If there was an unbridgeable language barrier charities located nearby were glad to send an interpreter.
What Probably Really Did Happen
There really wasn't an equivalent of a modern day passport. What names they verbally told the booking agents were normally good enough. Making a legal name change didn't require any special permission or paperwork, you just started using another name. Many immigrants changed their names themselves; to simplify spelling, to sound more American, or even to match the majority nationality in their neighborhood.
How Do I Know?
This was brought to my attention by the History Myths Debunked blog. But you can trace the story back with more information through the Smithsonian Magazine and on to the most thorough exploration in the New York Public Library blog.
Sarah S. Uthoff is a nationally known Laura Ingalls Wilder authority and has presented at five of the Wilder homesites, many times at the Herbert Hoover Presidential Library and Museum, many conferences and numerous libraries, museums, and events around the Midwest. She is the main force behind Trundlebed Tales fighting to bring the History, Mystery, Magic, and Imagination of Laura Ingalls Wilder and other greats of children's literature and history to life for a new generation. How can you help? Attend one of her programs, schedule one yourself, watch her videos, listen to her podcast, look at her photos, and find her on Facebook , Twitter , Google+, LinkedIn , SlideShare, and Academia.edu . Professionally she is a reference librarian at Kirkwood Community College and former director of the Oxford (Iowa) Public Library.